Monday, December 07, 2015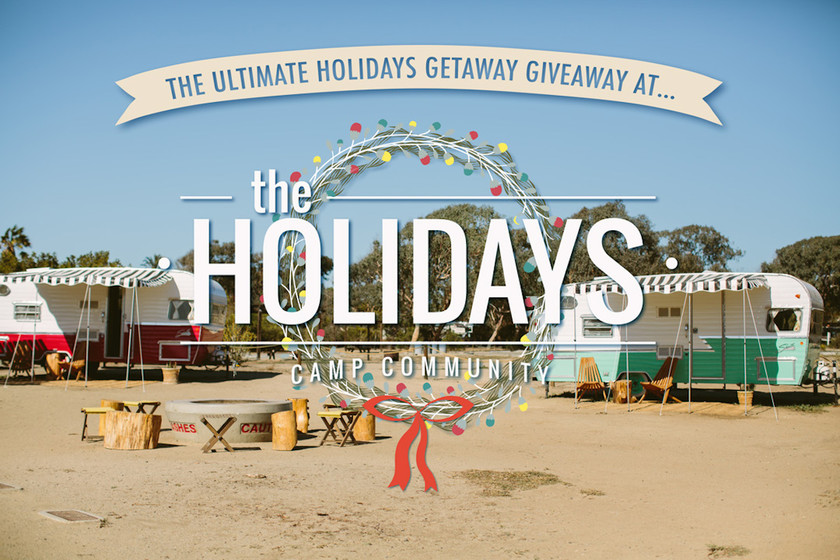 This holiday season, we are super excited to team up with some of our favorite brands to put together an epic Southern California getaway giveaway! One lucky winner will be chosen for a two night stay at The Holidays, our favorite San Clemente getaway, where you can camp in high style in beautiful vintage trailers right by the beach! Also included is an insane prize pack featuring Reef Points, along with TONS of other amazing goodies!
Here's the full prize pack:
Two Nights at The Holidays Campground (pending available dates and trailers)
Revolution Roasters Coffee and Donuts on Saturday morning
A bottle of Libre Tequila
Reef Points Hard Cider
S'mores kit
A catered dinner delivered to campsite
Poler Stuff Napsack and Mugs
A stack of the newest Surfing and Surfer mags
Stance Socks for the whole family
A Sun Bum gift set
James Michelle Happy Camper necklace
A Gunn and Swain beach kit with tote, beach blanket & more
Kamp & Co towels (2)
Lovebirds LA LBLAxTK Camera Strap
RAEN sunglasses
Cobian Shoe and Tee Pack for ladies and dudes
The giveaway runs today through this Friday, 12/11/15, ending at 11:59 p.m. All entrants must be 21 and over. Click HERE to visit the official giveaway module and enter!! Winners will be announced through the official giveaway module. Happy Holidays and good luck!